Our Horse Power courses are aimed at individuals or groups of children and young people with additional support needs or challenging behaviours and who require additional therapeutic interventions.
For some children the classroom is not an environment where they are able to learn and manage themselves emotionally and be able to reach their full potential.
With Horse Power they can.
The power of interaction with horses is something we can facilitate in a safe and nurturing environment using the horse's intuition to provide immediate feedback to our clients. Horses serve as "non-judgemental mirrors" that help clients learn about themselves and their energy.
Horse Power helps children and young people recognise how they are functioning and handling their feelings. For positive and productive work to take place with a horse, they must learn to tune into their own sensations and engage in new actions. The children and young people learn to become more aware of their body-mind connection.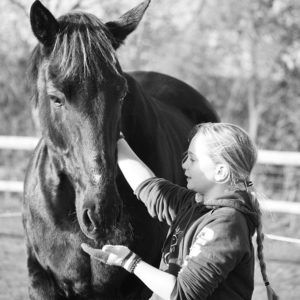 Horses are large, imposing animals that can weigh anywhere from several hundred to 1,000 pounds. They're also social animals, just like humans, and they have defined roles within their herds. Horses have distinct personalities, moods and attitudes.  What works with one horse will not necessarily work with another.
Horses also require work. They can't clean or groom themselves, or set out their own food.  Attending to their needs requires discipline and responsibility. Our Horse Power course involves working purely 'on the ground' with the horses (no riding). This allows for a real bond to take place and trust to be built. Although horse riding has some emotional benefits, it is a very different concept and we believe that much more is gained through interactions with the horses in their natural state.
Some of the activities in our Horse Power Courses include:
Observing the herd
Learning about equine behaviour
Getting know the horses' personalities
Grooming and care of the horses
Learning to lead a horse and manoeuvre a horse through non-verbal communication
Learning to become the horse's leader

How much does it cost?
Cost £70 per hour for 1:1.   £120 per week for a group of up to 6.
We recommend a 6-12 week Horse Power Course
Please enquire for our current offers and any specific requirements.
We can be flexible with our work.
You can download our brochure on Horse Power here: Horse Power courses